More than 100 religious leaders, scholars, scientists, farmers and activists gathered on the MTSO campus May 30-June 1 for "On Food and Faith: Ministry in the Time of Climate Change." The conference was presented by MTSO, the Center for Earth Ethics, The Climate Reality Project and the Ohio State University Initiative for Food and AgriCultural Transformation (InFACT).
"This is the first time that we have done this outside of Union Seminary," said Center for Earth Ethics Director Karenna Gore at the opening plenary session. "We felt an incredible opportunity to come here and be at a place that is actually growing and harvesting food as part of the seminary."
Former Vice President Al Gore, founder and chairman of The Climate Reality Project, participated in all three days of the conference, delivering a multimedia climate presentation during the Day 2 plenary session.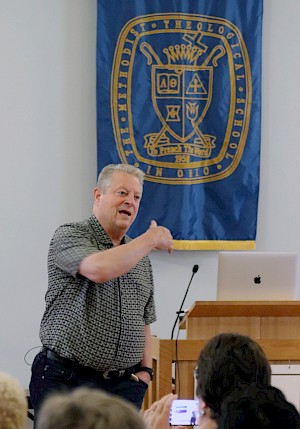 In introducing Al Gore, MTSO President Jay Rundell highlighted his achievements and honors, including the Nobel Peace Prize, an Oscar and a Grammy Award. "What we sense here with you in our midst," he told Gore, "is a certain synergy between the kinds of things you've committed yourself to and the kinds of things we're about on an everyday basis."
Early in his 90-minute talk, Gore spoke dramatically of the consequences of climate change, declaring, "We are in the process of visiting destruction upon God's creation." Still, he said, there is much good news, including dramatic strides in renewable energy: "It's now cheaper in most parts of the world to get energy from solar and wind than to burn fossil fuels."
"If anyone doubts for one moment that we as human beings have the will to change, just remember that the will to change itself is a renewable resource," Gore concluded.
Also speaking on Day 2 was Ohio State Distinguished University Professor of Soil Science Rattan Lal, recipient of the 2019 Japan Prize, one of the most prestigious honors in science and technology.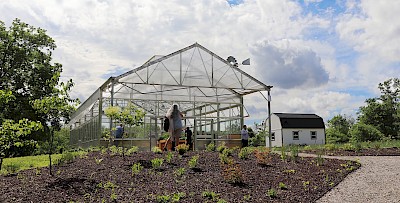 "A part of the biomass produced by soil must be returned to it," Lal told conference participants. "Taking away everything without returning any biomass is a robbery of the soil and a banditry."
The conference also included 18 breakout sessions – ranging from "Islam, Ramadan and Hunger" to "Standing with Farm Workers."
The session "Grief, Climate Change and Prophetic Hope" was moderated by Tim Van Meter, associate professor in MTSO's Alford Chair of Christian Education and Youth Ministry. Van Meter, who also serves as MTSO's coordinator of ecological initiatives, has worked with Karenna Gore on a number of projects, and their working relationship paved the way for MTSO to host "On Food and Faith."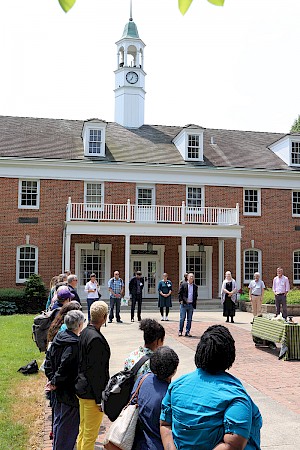 Before conference participants toured MTSO's Seminary Hill Farm on Day 1, Van Meter said, "I hope as you wander around with us, you'll understand we have an incredible farm staff. And we have an incredible food staff. These are people we're deeply, deeply grateful for."
In brief remarks reflecting on the founding of the five-year-old farm, Rundell said, "Over time in our curriculum, we had a number of things happening that planted the seed, so to speak, for this work. Almost all religious traditions have some understanding of food in the center of who they are. We're fairly deeply rooted in a number of Christian traditions here. We have sacramentalized food. We recognized that and found this was not so much doing something new but revitalizing our traditions."
During Day 3's final plenary session, a number of leaders and participants shared their reflections with the group. "If we can get people of faith to believe that the language we use is not geopolitical – it is spiritual language – then we can get this work done," said MTSO Dean Valerie Bridgeman.
And 15-year-old Hadessa Henry of Indiana, who attended with her grandmother, Aster Bekele, founder of Felege Hiwot Center, inspired sustained applause with a plea: "Maybe next time we have this, we could invite more kids. We're going to be here for a long time."
Video and media coverage
Karenna Gore explains why MTSO is the perfect place to talk about food and ministry:
Al Gore discusses the opportunity to hold the conference on the MTSO campus:
The Columbus Dispatch covered the conference with a newspaper story and this video:
NowThis News reported on the conference with a video including interviews with alums Alexander Clemetson and Steve Putka.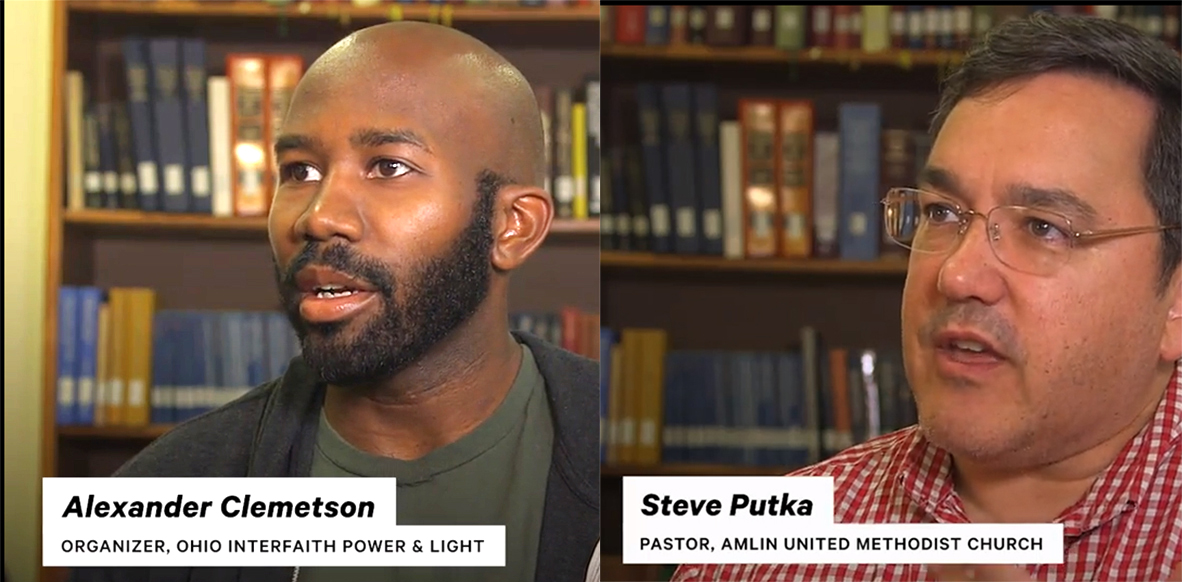 View a Facebook photo album from the conference.
Methodist Theological School in Ohio provides theological education and leadership in pursuit of a just, sustainable and generative world. In addition to the Master of Divinity degree, the school offers master's degrees in counseling, social justice, theological studies and practical theology, along with a Doctor of Ministry degree.
CONTACT:
Danny Russell, communications director
drussell@mtso.edu, 740-362-3322