October 28, 2011
Feature
After a life cut short, a lasting legacy
The Allen Ingram Scholarship honors a highly respected 2008 graduate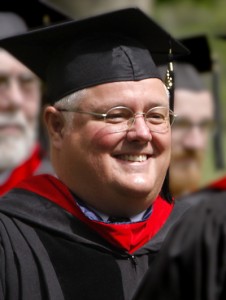 The decision to move to Ohio wasn't an easy one for Allen and Anita Ingram. They and their young daughters, Erin and Ann Marie, had a good life and deep roots in North Carolina. Allen had been an attorney for 19 years, and the Ingrams were active members of St. Luke's United Methodist Church in Hickory, where Allen was a lay leader.
But Allen felt called to full-time ministry, and he chose to prepare for that calling at MTSO. He enrolled in 2004, with the Ingram family taking up residence on campus.
Allen quickly earned the admiration and respect of his peers and professors. As he prepared to graduate with a Master of Divinity degree in 2008, Allen was instrumental in the senior class project, which raised more than $5,000 for a family center administered by the Concerned Citizens Against Homelessness of Delaware.
"Theological school makes a very real difference in a student's life, and in the best cases it's reciprocal," said MTSO President Jay Rundell. "A student can have a real impact on the seminary community. Allen was one of those students."
Allen, Anita and their daughters cherished their time as part of the MTSO community. And they developed a lasting sense of gratitude for the scholarships and other financial support that eased their financial burden.
"Allen and I talked about how thankful we were," Anita recalled recently. "And we said if we could ever afford it, we would like to provide a scholarship."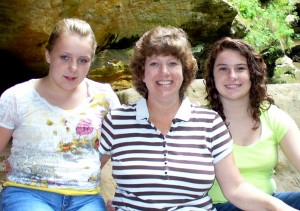 After graduation, the Ingrams returned to North Carolina, where Allen became the pastor of Clarksbury United Methodist Church in the town of Harmony. "He showed the heart of Christ in a deep concern for injustice, the underdog and the less fortunate," said Dr. Mary John Dye, Statesville District superintendent in the Western North Carolina Conference of the United Methodist Church.
In May 2011, shortly before he was to be ordained as a full elder, Allen died suddenly of a heart attack while returning home from a round of golf. At the conference ordination ceremony, his seat was left empty, and his stole was presented to his family.
"Allen was one of our brightest and best," Dye said. "I am so grateful for all that MTSO contributed to his life. We had many important conversations about his seminary formation. He was very grateful."
That gratitude manifested itself just weeks after he was laid to rest, with an act of generosity that speaks to Allen's lasting legacy and his family's undying loyalty to the place where he prepared for ministry. In June, Anita, Erin and Ann Marie Ingram visited Ohio and presented a substantial gift to MTSO for the creation of the Allen Ingram Scholarship.
The Ingram family's gift struck a chord with Allen's friends, colleagues and parishioners in North Carolina. Other donations have followed, and the members of Clarksbury UMC organized a particularly fitting tribute: On Oct. 8, the first annual Allen Ingram Memorial Golf Tournament drew more than 100 golfers to Lake Louise Golf Club near Harmony, with a portion of the proceeds benefiting the scholarship fund.
"I can't think of a better example of the sustaining faith and generosity of the MTSO community than the Allen Ingram Scholarship," Rundell said. "Seven years ago, the generosity of others enabled Allen to prepare for exemplary service to his church and community. Now, thanks to the generosity of Anita, Erin, Ann Marie and many others who are investing in this scholarship, future Christian leaders and their families will find a smoother path to ministry."
Each gift to the Allen Ingram Scholarship Fund will help the scholarship provide a more substantial benefit to a deserving MTSO student. To add your gift, visit www.mtso.edu/ingramscholarship.
Methodist Theological School in Ohio prepares transformational leaders of many faith traditions for service to the church and the world. MTSO offers master's degrees in divinity, counseling ministries, theological studies and practical theology, as well as a Doctor of Ministry degree. For more information, visit www.mtso.edu.
CONTACT:
Danny Russell, director of communications
drussell@mtso.edu, 740-362-3322