April 3, 2012
News
MTSO takes its message to those focused on UM General Conference
The Reporter ad shares a recent grad's 'Summit Experience'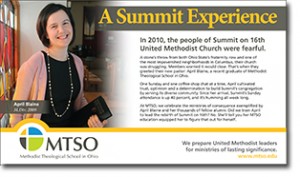 In a United Methodist General Conference preview advertisement, MTSO shares one graduate's ministry success story. The ad, in a special General Conference preview supplement of the United Methodist Reporter, tells the story of April Blaine (M.Div. 2009), who is leading a membership resurgence at Summit on 16th UMC, near the Ohio State University campus in Columbus.
A full-size PDF of the ad is available here.
The ad is running in multiple consecutive issues of the Reporter, beginning March 16. General Conference convenes April 24 in Tampa, concluding May 4.
Methodist Theological School in Ohio prepares leaders of many faith traditions for lives of significance in service to the church and the world. The school offers master's degrees in divinity, counseling ministries, theological studies and practical theology, as well as a Doctor of Ministry degree. For more information, visit www.mtso.edu.
CONTACT:
Danny Russell, director of communications
drussell@mtso.edu, 740-362-3322