July 3, 2013
News
West Ohio Conference ordains and commissions MTSO alumni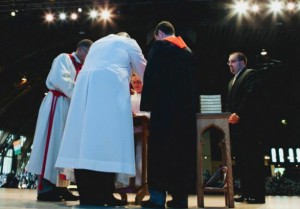 Methodist Theological School in Ohio recognizes and celebrates the ordination and commissioning of MTSO alumni during the 2013 West Ohio Annual Conference.
Three alumni were ordained as elders during the June 11 ceremony:
Katherine Currier, serving Fayette United Methodist Church.
Anna Guillozet, serving King Avenue UMC in Columbus.
Joseph Ziraldo, serving Marion Crosswood UMC.
Four alums were commissioned as provisional elders:
Charles Baugher, serving Calvary UMC in Toledo.
Nicole Henderson-Johns, serving Norwood Grace UMC.
Meghan Howard, serving Fairborn UMC.
Carol Williams-Young, serving Woodville UMC.
Karen Brantley, who is serving as director of Hispanic/Latino ministries for the West Ohio Conference, was commissioned as a provisional deacon.
"West Ohio's annual conference is always special for MTSO," said MTSO President Jay Rundell. "And a big part of the week is celebrating these significant milestones with our alumni."
Video of the June 11 service is on the West Ohio Conference's Livestream page. Photos from the day are available on West Ohio's Facebook page.
Methodist Theological School in Ohio prepares leaders of many faith traditions for lives of significance in service to the church and the world. The school offers master's degrees in divinity, counseling ministries, theological studies and practical theology, as well as a Doctor of Ministry degree. For more information, visit www.mtso.edu.
CONTACT:
Danny Russell, director of communications
drussell@mtso.edu, 740-362-3322