July 5, 2012
News
West Ohio taps MTSO grad for residency program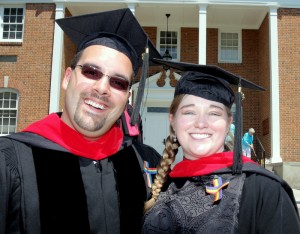 Not long before he was awarded a Master of Divinity degree from MTSO, Chris Henderson-Johns received unexpected news. He learned he was being considered for the West Ohio Conference residency program.
"When I got the phone call kind of out of the blue, I was a bit taken aback," he said. "It's a phenomenal opportunity."
Through the residency program, begun in 2008, West Ohio chooses one recent seminary graduate per year to spend the first two years of post-seminary ministry alongside an experienced United Methodist pastor in a healthy congregation.
The interview process for a prospective resident is thorough, and for Henderson-Johns, it meant a whirlwind day on an already momentous week.
"Because of the timing and how quickly all of this happened, I spent the Tuesday before graduation interviewing," he said. Among other things, he met with the residency selection committee, the West Ohio cabinet and, finally, one-on-one with Bishop Bruce Ough.
Evidently, they were good meetings. Henderson-Johns accepted the bishop's offer to serve Anderson Hills UMC in Cincinnati. His two-year residency began July 1, with lofty goals for the leader he will become.
"At the end of the two years, we are appointed to a church that is considered a larger congregation within the conference – one that is considered to be generally healthy, but one that is ready to blossom," Henderson-Johns said. "The expectation is that I will go into a church at 28 years old and be able to move a church into their next levels of ministry."
A three-page set of residency goals and benchmarks defines that expectation in detail. Following his residency, Henderson-Johns will become senior pastor of a new church with the goal of taking average attendance beyond one or two "growth barriers" (200 a week, 600, 1,000 etc.) within five years.
Between now and then, he'll work under the mentorship of Anderson Hills Senior Pastor Mark Rowland to achieve goals for personal development and ministry development.
"I will have standard responsibilities, preaching on occasion," Henderson-Johns said. "It looks like my primary responsibility will be connectional ministries – fostering an environment where the church and the community know one another and function well with one another."
At just 26 years old, he brings an uncommon wealth of ministry experience to this residency. In 2006, while still a student at Otterbein University, he began serving Pleasant Chapel UMC. He has since served Madison Mills UMC, Jeffersonville UMC and Grace UMC in Washington Court House. Now he looks forward to the opportunities mentorship will bring.
"My experience has been with churches that have a membership of 100 to 200," he said. "So the first thing this will do is allow me to see what a large church looks like and feels like. Also, I have been serving as the pastor of congregations for 6 1/2 years, so I'm hoping this will be a time not only of learning for me but of spiritual renewal."
He's also hoping that the next two years will bring relative stability for himself and his wife and former MTSO classmate, Nicole. Both newlyweds received their M.Div. degrees May 19. Nicole Henderson-Johns has been appointed to serve Grace UMC in Norwood, near Cincinnati.
"This is actually our third move, and we have not had a one-year anniversary yet," Chris Henderson-Johns said between packing boxes for the move south. "We are living out the true meaning of itinerancy."
Methodist Theological School in Ohio prepares leaders of many faith traditions for lives of significance in service to the church and the world. The school offers master's degrees in divinity, counseling ministries, theological studies and practical theology, as well as a Doctor of Ministry degree. For more information, visit www.mtso.edu.
CONTACT:
Danny Russell, director of communications
drussell@mtso.edu, 740-362-3322