January 6, 2014
News
Zimmerman keynotes Ohio Ministries Convocation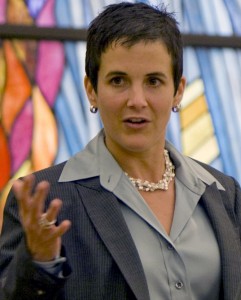 MTSO Associate Professor of Christian Ethics Yvonne Zimmerman will be a keynote presenter at the Ohio Ministries Convocation, sponsored by the Ohio Council of Churches, Jan. 27 at Broad Street Presbyterian Church, 760 E. Broad St. in Columbus.
The theme for the convocation is "Building an Inclusive Movement to Resist Human Trafficking." Zimmerman will share keynoting duties with Letitia M. Campbell of Emory University. The two are currently working together to develop ethical resources for progressive Christian responses to trafficking.
Zimmerman is author of the 2012 book Other Dreams of Freedom: Religion, Sex, and Human Trafficking.
More information and registration materials for the Ohio Ministries Convocation are available at the Ohio Council of Churches website.
Methodist Theological School in Ohio prepares leaders of many faith traditions for lives of significance in service to the church and the world. The school offers master's degrees in divinity, counseling ministries, theological studies and practical theology, as well as a Doctor of Ministry degree. For more information, visit www.mtso.edu.
CONTACT:
Danny Russell, director of communications
drussell@mtso.edu, 740-362-3322