April 25, 2014
Event
Zimmerman to participate in Oberlin 'Defrocked' panel
The panel follows a talk by Frank Schaefer, defrocked after officiating his son's same-sex wedding.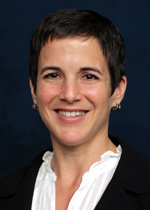 Yvonne Zimmerman, MTSO associate professor of Christian ethics, will be a panelist at "Defrocked: Still Faithful," to be held at 5 p.m. May 1 in the historic First Church in Oberlin, United Church of Christ, 106 N. Main St.
The panel discussion will follow a talk by Frank Schaefer, a former United Methodist pastor from Lebanon, Pa., who knowingly violated the church's Book of Discipline when he officiated at his son's wedding. The church's governing document bars clergy from performing same-sex marriages or civil unions. During the second day of his church trial for the violation, he said "I cannot be silent any longer; I must speak out for the LGBQT community," donned a rainbow stole and refused to comply with a mandate to refrain from taking part in such activities in the future. The Eastern Pennsylvania Conference Board of Ordained Ministry revoked Schaefer's clergy credentials, upholding the penalty from the church trial.
After his talk, Schaefer will be joined by Zimmerman, Bishop Mark Hollingsworth of the Episcopal Diocese of Ohio, and Cornelius Graves IV, a recent Oberlin College graduate and prospective seminary student for a panel discussion.
Following the keynote event, dinner and break-out conversations will take place at various locations on the Oberlin College campus and in area churches.
The event is sponsored by the Oberlin College Office of Religious and Spiritual Life with support from Oberlin College Multicultural Resource Center, First United Methodist Church of Oberlin, First Church in Oberlin, and Christ Episcopal Church of Oberlin.
Methodist Theological School in Ohio prepares leaders of many faith traditions for lives of lasting significance in service to the church and the world. In addition to the Master of Divinity degree, the school offers master's degrees in counseling ministries, theological studies and practical theology, along with a Doctor of Ministry degree. For more information, visit www.mtso.edu.
CONTACT:
Rev. David Dorsey, Oberlin College
440-775-8103
Danny Russell, director of communications
drussell@mtso.edu, 740-362-3322