Planned Giving to MTSO
You can ensure a legacy of lasting significance.
Students are drawn to MTSO because they want to make a difference as Christian leaders. What makes this aspiration achievable is a similar desire in our donors to make a meaningful contribution to the church and the world. Our students today are benefiting enormously from estate gifts left by those who made a commitment to planned giving during their lifetimes. Your decision to make MTSO part of your planned giving can offer a wealth of benefits in the future. It will help us:
• Attract the highest quality students and make their preparation for ministry affordable;
• Provide essential scholarship funding;
• Encourage innovative academic programs;
• Revitalize campus facilities;
• Recruit and retain highly creative and effective faculty.
MTSO formed the Sterling Society to recognize those who have included MTSO in their estate plans. We look forward to adding your name to this significant honor roll. To help you get started, we offer the resources below and encourage you to consult with your own advisors to determine which options best suit you.
Take inventory of your property and assets, and set priorities and goals. This guide will help you get started.
Provide for a bequest to MTSO
A provision for Methodist Theological School in Ohio in your will or trust allows you to retain control of your assets during life and make a very significant gift at the end of life.
How it works:
Designate a gift to Methodist Theological School in Ohio in your will or trust.
Specify a percentage of your estate, a specific asset, or the residue of your estate to the school.
Complete a separate agreement with the school to describe the eventual use of your gift.
Benefits to you:
You have the satisfaction of making a significant gift to benefit MTSO.
You retain control of assets during life.
You may receive estate tax savings.
Your gift is easily accomplished through a simple addition to current document.
Benefits to MTSO:
Following your lifetime, the gift will be used for the benefit of MTSO according to your wishes.
Often a bequest is much larger than any gift that can be given during a donor's lifetime.
Here is a printable PDF with sample language for several types of bequests. We encourage you to print a copy as a resource for you and your advisors.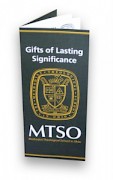 Learn more from this helpful booklet
We'll gladly send you our informative booklet, "Gifts of Lasting Significance," with information about the benefits of many types of gifts. Simply provide your name and address to Claudine Leary, director of development, at cleary@mtso.edu or 740-362-3323.