The Theological Commons at MTSO presents a day of focus and collaboration on food security, including preaching, networking, and an interactive workshop led by Rev. Dr. Heber Brown III. He will share his insights on the intersection of faith and creating church-based food networks that lead to long-term health sustainability. He has found that many churches already possess the tools and resources to build a flourishing community that addresses nutritional food security in urbanized neighborhoods. 
Individuals and churches are invited to join us for a day of learning and inspiration. Participants will leave this experience with a theological basis for food security, a strategic plan of engagement and a toolkit for leading their community to embrace personal healthcare.
Workshop leader
Rev. Dr. Heber M. Brown III is a community organizer, beginner farmer, social entrepreneur and pastor of Baltimore's Pleasant Hope Baptist Church. For nearly two decades, he has demonstrated a deep commitment to and advocacy on a myriad of social justice concerns.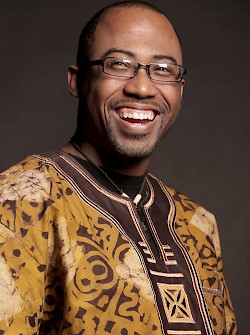 In 2015, Brown launched the Black Church Food Security Network, which combats food apartheid by providing seed funding and support to help congregations begin growing food on church-owned land. The network also serves as a food hub, linking black churches and black farmers in the Mid-Atlantic region in an effort to create a community-controlled, alternative food system based on self-sufficiency and black food and land sovereignty.
Brown is the recipient of numerous awards, including the Ella Baker Freedom Fighter Award. Grist.com named him among the "Grist 50: The 50 People You'll Be Talking About in 2016" - a list of "innovators, organizers, and visionaries who will lead us toward a more sustainable future."
Schedule
| | |
| --- | --- |
| 1 p.m. | Chapel service, with Dr. Brown preaching |
| 2:15 p.m.   | Faith, Food and Flourishing workshop |
| 5 p.m.   | Relaxation and tours of MTSO's Seminary Hill Farm |
| 5:45 p.m.   | Networking dinner featuring locally sourced food |
| 7 p.m. | Public lecture by Dr. Brown |
The MTSO community will gather in Dunn Dining Hall for lunch at noon. All are invited to join us. Lunch cost is $6.
Location
Methodist Theological School in Ohio
3081 Columbus Pike, Delaware, OH 43015
View a Google map and a labeled campus map.
Workshop tuition
Tuition of $25 per person includes the 2:15 p.m. workshop and dinner. Current MTSO students, faculty and staff are free. A 0.5 CEU credit is available for an additional $15. The chapel service, farm tour and public lecture are offered to everyone at no cost. 
Help us spread the word
Download and email or print this letter-size poster.
Stop waiting. Start moving.
Register below to reserve spots for members of your group. Questions about registration? Please contact Danny Russell at drussell@mtso.edu or 740-362-3322.