Audio archives
Hear Dunn, Tilson and others in online recordings
MTSO's Dickhaut Library has facilitated the creation of digital audio recordings of important figures from the formative years of the school. The recordings, which are available for online streaming, feature Dean Van Bogard Dunn and faculty members Jeffrey Hopper, Paul Minus and Everett Tilson.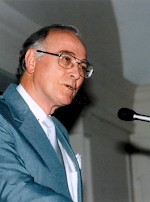 They include a report by Dunn, Hopper, Minus and Tilson on their arrest in 1964 while attempting to accompany African-American worshipers to an Easter Sunday service at an all-white church in Jackson, Mississippi. Also included are the last sermon preached by Tilson before his retirement in 1988 and complete courses taught by Dunn on Mark, John and Romans.
To access the recordings, visit www.soundtheology.org, select "Audio Programs" at the top of the screen, then choose Methodist Theological School in Ohio from the "Institutional Source" menu.