Monday, Oct. 7 event
Alumni Day registration opens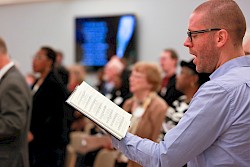 We invite all MTSO alumni, students, faculty and staff – as well as former Methesco faculty and staff members – to join us for Alumni Day and take advantage of this annual opportunity to reconnect.
MTSO's 2019 Alumni Day opens Oct. 7 with a morning chapel service and continues with a luncheon honoring this year's recipients of the John and Ruth Mount Alumni Awards for Distinguished Service:
Eugene Folden (M.Div. '84), associate pastor – congregational care at Linworth United Methodist Church, Columbus.
TaNikka Sheppard (M.Div. '10), director of life development at New Salem Baptist Church, Columbus, and president of the Baptist Women of North America.
Ellen Sims (M.Div. '06), pastor of Open Table United Church of Christ in Mobile, Alabama.
As always, lunch will feature Seminary Hill Farm produce and other locally sourced food.
All events are being presented at no cost to guests, though everyone who plans to attend is asked to RSVP using the online registration form. This advance registration will help with food preparation and other planning.