Faculty Author
Sarah Lancaster tackles Wesley's approach to happiness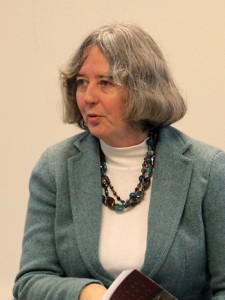 It's a regular occurrence when Professor Sarah Lancaster leads students in the study of United Methodist doctrine. They delve into the sermons of John Wesley, endeavoring to mine the most profound thoughts of the founder of the Methodist movement, and one word keeps popping out.
Happiness.
Lancaster, who holds the Werner Chair in Theology at MTSO, understands her students' mild befuddlement: "Many of them have learned in their churches that Christians don't seek happiness. They seek joy."
But a reading of Wesley's sermons reveals an unabashed concentration on happiness.
"I found the word happiness in more than 80 of his 150 sermons," Lancaster said. "And that's only searching for the word happiness, not the word happy."
On self-help bookshelves, of course, the word is everywhere, and Lancaster has seen the publishing industry's focus on happiness grow just in the past few years. She has even noticed a surprisingly large collection of happiness-themed books at the famed Blackwell's Bookshop in Oxford, UK – a store with a decidedly academic bent. And she realized that in the 1700s, Wesley was weighing in on a topic with resonance in the 21st century.
"If we have this in our tradition, why aren't we engaging in this conversation that the culture at large is having?" she said. "People seem to care about this. Why aren't we making the connection?"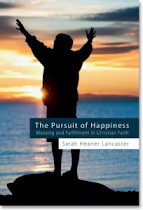 Now Lancaster has made the connection, with the publication of The Pursuit of Happiness: Blessing and Fulfillment in Christian Faith (Wipf & Stock, 2011). In researching the book, she found that Wesley's sermons don't differentiate between the words happiness and joy – and for him, neither defined the kind of momentary pleasure you might get from downloading a nifty iPhone app. His preferred word for more superficially positive state of mind was merry.
Happiness, on the other hand, referred to an integrated life that has meaning. Lancaster said it's significant that Wesley's writings usually paired happiness with holiness.
"When Wesley talks, he talks about the two of them together. It's happiness and holiness, holiness and happiness," she said. "It's so central to his way of salvation. It's the goal of what salvation is about. It's what God intended for us in the creation of the world."
"And it's not just happiness for humans that he's thinking about. He actually thinks about the happiness of all creation."
Does that mean Wesley was an 18th-century eco-theologian? "You can actually find a good theological basis for current ecological concerns in the way that he thinks about happiness," Lancaster said.
She said Wesley's rich understanding of happiness didn't seek to discount life's hardships.
"He uses a word for the difficulties we face, which he calls heaviness. There can be heaviness, but you can still be happy in God and supported by God through those difficulties. It's this confidence that sustains you through those times."
Lancaster said it's important to remember that Wesley's writings are in the form of sermons, intended as practical messages, delivered in a particular context at a particular time. In that spirit, the last chapter of The Pursuit of Happiness asks, "What would a church that promotes this kind of happiness look like?"
"This is not just a theoretical kind of concern," Lancaster said. "It really does have real-life application, and churches ought to be thinking about this and promoting this sort of happiness for people."