A call for updates
Alums, what's new with you?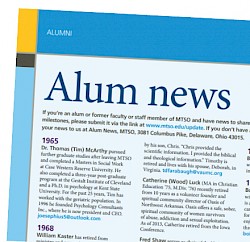 The upcoming issue of The Story Magazine and Annual Report will share news about big events in the lives of our alumni, and we'd like your news to be a part of it. Please take a moment to update us on any adventures and milestones you've experienced over the past year.
It's easy to share your news and update your contact information at www.mtso.edu/update.
Our Alum News is an ongoing record of the meaningful lives MTSO's alumni are leading. Thanks for your contribution to it.