Save The Dates: Feb. 23 and 24
Schooler Institute features Bridgeman and Lockward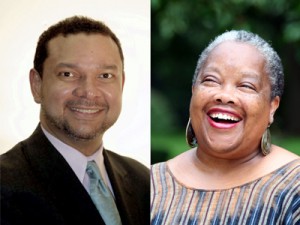 Valerie Bridgeman and Jorge Lockward will lead the Schooler Institute on Preaching Feb. 23 and 24 on the MTSO campus. Thanks to the generosity of the Schooler Family Foundation, the event is offered to the public without cost. MTSO is offering one CEU credit for a $25 administrative processing fee.
Valerie Bridgeman is visiting associate professor of homiletics and Hebrew Bible at MTSO. She is the founding president of WomanPreach!, an organization bringing preachers to full prophetic voice. She has taught in some of the nation's premier seminaries and divinity schools. Before coming to MTSO, she was a tenured associate professor of Hebrew Bible and homiletics and worship at Lancaster Theological Seminary in Pennsylvania. Ordained in the Church of God, Bridgeman holds a doctorate from Baylor University, a Master of Divinity degree from Austin Presbyterian Theological Seminary and a B.A. from Trinity University.
Jorge Lockward is director of global praise for the General Board of Global Ministries of the United Methodist Church. Born and raised in the Dominican Republic, he was a committee member of the Spanish Language United Methodist Hymnal and has served as consultant on other denominational hymnals. Among other contributions to worship, Lockward has served on the executive committee of the Hymn Society in the United States and Canada and the board of directors of Choristers Guild. As a song leader and workshop leader, he models a passion for the ways congregational song both reflect and shape the theology and praxis of the assembled community.
More information will be available and registration will be open in coming weeks.