An Alum Overseas
Caulk seeks to fill a need for the Methodist Church in Britain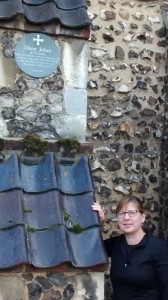 When Debbie Caulk became a student at MTSO, she had more than a degree in mind. She wanted to prepare for Methodist ministry outside the United States, especially in a place struggling with a shortage of ordained clergy.
Now Caulk, who earned her Master of Divinity degree from MTSO in May 2014, has moved to that place: Great Britain, the birthplace of Methodism, where she and her husband, Rev. Robert L. Roberts, moved in July. During this summer's annual conference of the Methodist Church in Britain (MCB), the conference approved Caulk's transfer into the MCB as a student presbyter/probationer and approved Roberts, an elder with West Ohio Conference, to be "recognized and regarded" as a presbyter.
They now live in Norwich, England, where Roberts is serving three Methodist congregations. Caulk has been linked with Chapel Field Road Methodist Church in Norwich for her ministry assignment, while also working on a research Ph.D. in Methodist history at the Queen's Foundation for Ecumenical Theological Education.
Caulk, who previously had a career as a religious news journalist and editor, began studying at MTSO in September 2010. She and Roberts had recently returned to Ohio after four years of ministry in Britain.
"At that time, it was an adventure," she said. "I was there as the minister's wife and as a super-volunteer." Roberts was appointed with one other minister to serve seven – you read that right - congregations in Yorkshire. In other areas of the U.K., presbyters were serving even more congregations.
"As I learned about the great need and heard about people waiting months for Holy Communion, for baptism, weddings, memorial services, I felt called to study for ordained ministry myself," Caulk said. "As a child, I had heard that call to ministry, but my pastor told me that girls are called only to be preachers' wives. Unfortunately, I believed that for a long time. When I knew differently, I had to act."
As she works to fill Great Britain's need for more clergy, Caulk is grateful for the preparation that her seminary provided. "MTSO's ecumenical environment was a great transition for me," she said. "All of my professors at MTSO cheered me on and always expected the best from me."