Alumni Day
Dean Withrow's installation highlights a time of celebration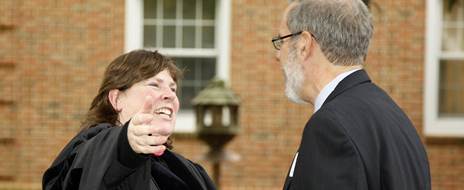 More than 180 members of the MTSO community gathered Oct. 6 for the second annual Alumni Day. Former students, faculty and staff returned to campus for the day's events, which began with "More Than the Farm: Ecotheology at MTSO," a discussion led by faculty members Tim Eberhart and Tim Van Meter.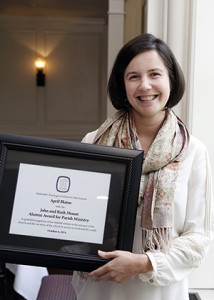 The John and Ruth Mount Alumni Awards for Distinguished Service were presented at a luncheon featuring a farm-fresh, family style meal. April Blaine, the lead pastor of Summit on 16th UMC in Columbus, received the Mount Award for Parish Ministry.
"April received her M.Div. from MTSO just five years ago, and in that time, she has led the transformation of a struggling urban congregation into a center of servant leadership for its neighborhood," said President Jay Rundell in presenting the award. "She has found a way to expand her church's membership and reach while making sure existing members remained invested in an evolving mission."
Roy Mitchell (M.Div. and MTS '05), chaplain and director of church relations for Columbia College in South Carolina, received the Mount Award for Specialized Ministry.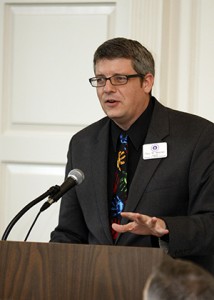 "It's gratifying to see how Roy's ministry as a college chaplain has come to embody many of the values we hold dear," Rundell said. "At Columbia, he has taught classes on food and faith, on immigration, and on world religions. He does these things in addition to his chaplaincy work with students, faculty and staff of more than 20 different Christian denominations – plus those of other faith traditions or no faith tradition."
The day culminated with the installation of Dean Lisa Withrow. Her installation featured charges from Director of Academic Affairs Sue Lamphere on behalf of the administration and staff; Professor Robin Knowles Wallace on behalf of the faculty; Kenya Cummings of the Black Seminarians' Network on behalf of students; Bishop in Residence Judith Craig on behalf of the church; and Board Chair David Wilcox on behalf of the trustees. Video of the ceremony, including Withrow's installation address, titled "Choices," is available in the Theological Commons archives.
Following the ceremony, guests enjoyed dessert and coffee as a harpist and flutist played Celtic music – a favorite of the new dean. Many more photos of Alumni Day are available for viewing on MTSO's Facebook page.