By Abigail Salak
M.Div./MACM '14
I have to admit, I harbored a nagging worry about the summer trip to Israel/Palestine I had signed up to take. Cross-cultural immersion trips have become part of the fabric of MTSO, and I was hoping for a valuable experience. Yet Israel/Palestine is a fairly "Western" place, and a lot of the sites on our itinerary were archaeological; I was unsure how immersively cross-cultural the trip could be.
Pushing through those doubts, on May 28, 2012, I boarded a plane bound for Tel Aviv with 20 of my classmates and two faculty members, Dr. John Kampen and Dr. Yvonne Zimmerman. Over the next 14 days, my concerns about the trip melted away, as I became immersed not only in the histories and perspectives of those who struggle to make that small piece of land home but in the varied reactions of my fellow travelers.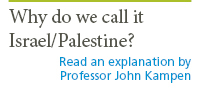 Our visits to historical sites gave us a much-needed history of a region that has been in near constant conflict and turmoil for centuries. Without the understanding of the deep history of Israel/Palestine, we would have had no context to understand the current conflicts. We were fortunate to be able to spend time with Palestinian Christians and Muslims, as well as Orthodox and Reform Jewish Israelis. The time spent learning and in conversation with these people helped me to gain a better understanding of the current Israeli- Palestinian conflict and the contemporary history that preceded it.
Growing up in the 1980s, I rarely heard the word "Palestinian" on the news when it wasn't followed by "terrorist." As a college student in a predominantly Jewish neighborhood in Pittsburgh, I had a number of friends with family members who had made aliyah (immigrated to Israel). I knew little more about Israel and Palestine than those two things – Palestinians were terrorists and Jewish people wanted to return to the Holy Land. As an adult, I learned more about the conflict and the creation of Israel, but I still had a tenuous grasp of its meaning.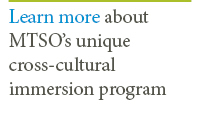 Our trip changed that. As is the norm for MTSO's cross-cultural trips, our group met with a wide array of experts: Botrus Mansour, director of the Nazareth Baptist School; Dr. Mustafa Abu-Sway, director of the Islamic Research Center at Al- Quds University (Jerusalem); Dr. Cedar Duaybis, founding member of Sabeel Ecumenical Liberation Theology Center; Dr. Debbie Weissman, who identified herself as a religious Zionist; and Dr. David Mendelsson, head of Israel Studies at Hebrew Union College (Jerusalem). And I began to see how deeply the region's issues affect people.
It had been easy, from here on the other side of the world, to dismiss the conflict as just that – a conflict far away. Hearing the stories of the day-to-day struggles of Palestinian Christians and Muslims, of Jewish people who were looking for a homeland, I came to realize that this is not solely a political conflict. It was a struggle between individuals just trying to live out their lives and their faith in a land they all called home.
A number of my friends and classmates, after the conversations with Palestinians and Israelis, chose decisive sides, some with the Palestinians and some with the Israelis. For me, though, the conversations and understanding gained from them led to a place of comfort with the in-between places. I was easily able to see the Palestinians as a people struggling for a home. I also was reminded – particularly on a visit to Yad Vashem, the Israeli Holocaust museum – just how important a homeland was and is to the Jewish people. For me, the visits and the personal interactions didn't lead to conclusions about who was right or wrong. Instead, they reminded me that the in-between place can be an effective space for exploring deeper conflicts.
Each cross-cultural immersion trip is different; those in each group come to understand the communities they visit in new and varied ways. For me, the trip to Israel/Palestine allowed me to be immersed in both the historical and current cultures and conflicts.
I saw the ancient alongside the present in Jerusalem and other cities. This juxtaposition gave me a context in which to better understand the history of the two nations, as well as the multiplicity of religions and cultures that live, both together and divided, in that holy land.
Methodist Theological School in Ohio prepares transformational leaders of many faith traditions for service to the church and the world. MTSO offers master's degrees in divinity, counseling ministries, theological studies and practical theology, as well as a Doctor of Ministry degree. For more information, visit www.mtso.edu.
CONTACT:
Danny Russell, director of communications
drussell@mtso.edu, 740-362-3322