M.Div. '14
A requirement for a Master of Divinity degree at MTSO is a Cross-Cultural Immersion Experience. As an M.Div. student, I knew I would need to choose one of the cross-cultural trips the school offers periodically.
When I saw "India," I knew without a doubt which trip I wanted. India – I immediately thought of "Incredible India," just as their national marketing strategy had planned. India – I'd known of it for years: the land of exotic spices, brilliant silks, tantalizing music, profound spirituality and the Taj Mahal!
Yes, I had heard some people say that southern India had mosquitoes tough enough to strangle a Chihuahua, but I was not going to let a bug or a 16-hour flight or a nasty threat of "Delhi Belly" scare me away from possibly the greatest adventure of my life.
Now that I'm safely back home, I can assure you that DEET works great against mosquitoes, you can learn to get comfortable and maybe even sleep on 16-hour flights, and there are easy ways to prevent "Delhi Belly." But more important, the greatest adventure of my life turned out to be one of the great turning points in my life as well.
For 15 days in late December and early January, I had the opportunity to immerse myself in the Indian culture along with 16 fellow adventuresome MTSO students and our fearless professor, Dr. Tim Van Meter. The trip offered an exhilarating turning point for me, as I had the opportunity to go beyond the cold, black-and-white words in textbooks to experience life in India first-hand. I now was seeing information in action, and I now had details to help form my own opinions about India.
I was privileged to be right in the middle of India's colors and sounds, to taste the deliciously spiced foods, to walk through the ancient holy places and the busy, exotic streets. I had the priceless opportunity of meeting fellow human beings in the midst of their own daily lives.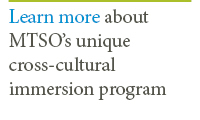 Some professors and staff members at the Tamil Nadu Theological Seminary invited me into their homes, introduced me to their spouses and children, shared a cup of tea with me, showed me some of their treasured possessions, and taught me how to play their indigenous musical instruments. I walked away from each of these occasions with my mind and heart feeling expanded and enriched. I realized anew that sharing God's love with all God's children is a vital element in ministry.
However, the immersion into Indian culture also was quite an unsettling turning point for me. I couldn't help but compare my typical daily life to the lives of some women I saw every day as we traveled through villages, towns and cities. In 90-degree heat, I saw old women bending over in muddy rice fields all day, young women using sledgehammers to crush piles of rocks, middle-aged women struggling behind ox-powered plows in obstinate clay soil, ancient women sitting along the roadsides hoping someone would buy their carrots, little girls walking miles to school on roads they shared with trucks, buses, motorcycles, rickshaws and cows.
One of the very contented women I met had two tea cups and two plates – no glasses, goblets, tumblers, juice cups or mugs; and definitely no eight-piece sets of holiday china used only in December – just two plain tea cups and two plates. "That's all we need," she said.
Another cheerful woman was seemingly happily raising her two teenage daughters in a tiny one-bedroom house. I wondered if maybe my having to tend to all my possessions could be holding me back from being able to drop whatever I'm doing to be available to answer God's call to help someone at a moment's notice.
Incredible India! I may have been on the other side of the world, thousands of miles away from everyone I know and love – and during Christmastime. Yet I experienced profound turning points. From the moment I arrived in India, I never felt a sense of loss for what I had left behind.
The people I met were so welcoming, so caring and so happy to have us with them that I felt I lacked nothing. As I learned to make myself at home there, I found my heart and mind were changed forever.
Methodist Theological School in Ohio prepares leaders of many faith traditions for lives of significance in service to the church and the world. The school offers master's degrees in divinity, counseling ministries, theological studies and practical theology, as well as a Doctor of Ministry degree. For more information, visit www.mtso.edu.
CONTACT:
Danny Russell, director of communications
drussell@mtso.edu, 740-362-3322