October 24, 2016
Feature
In the Southwest, shaping responses to difference
A theological reflection on cross-cultural immersion
Twice each year, MTSO faculty lead students on cross-cultural immersion trips of roughly two weeks. This experience, which is available to all students and a requirement for those seeking a Master of Divinity degree, is not a mission trip. Rather it provides an opportunity to truly experience, rather than attempt to impact, a culture different from one's own. Professor Jeff Jaynes and MTSO alum Charlie Knerr led a trip to the southwestern United States June 1-18, 2016. Here is one student's reflection on her travels.
By Emily Howard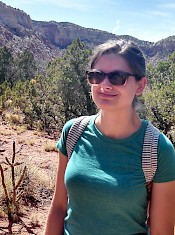 Before traveling to the Southwest with a cross-cultural class from MTSO this summer, I had been to New Mexico once before. As a teenager, I volunteered to help with a vacation bible school, on a mission trip that both disturbed me and changed my faith.
On that trip, the missionaries we worked with would not allow us to attend any Native American events. I remember the pastor banning Kokopelli charms from church property and instructing our group that yoga was of the devil, like the American Indian beliefs we desired to change. As missionaries, we denigrated American Indians' practices in an attempt to convince them that their culture should be replaced. By doing so, we attempted to strengthen our Christian identity at the cost of shutting others out. I remember feeling so frustrated with these rules. For the first time, I was aware that something was missing for me in the faith I had been given.
Thirteen years later, I enrolled in MTSO's cross-cultural trip to return to the Southwest with a new perspective. I sought to learn from a culture not my own, to hear from American Indian people themselves about the traditions they hold dear and the challenges they face, and to gather alternatives to that mission trip long ago.
As we prepared for the journey, our class talked about cross-cultural skills. Human beings all use coping strategies when faced by difference. When we step out of a comfort zone or when another culture pierces our world, we experience dissonance. In our response to difference, we could potentially cut off relationships – or we could choose to respond with strategies that have the potential to deepen them.
Every day of our travels brought a hundred opportunities to experience crosscultural interactions and their accompanying decisions. Hiking the canyon, and gifted by an Indian tour guide with a meal of beans and bread, will you eat it or say no? Praying with Roman Catholic communities, if you are not of that faith, what will you do when invited for a blessing during the Mass? Attending an Indian dance on a Pueblo, where will you sit, and what will you say to the people of the community around you?
Every day was full of spontaneous moments like these. Many times, the response starts before you know what is happening. At the end of each day, we could look back and wonder: What responses would we choose if we could do it again? And what seemed to work in ways that deepened relationships? The point, for me, in these interactions became wondering how to develop mutual relationships instead of lopsided ones. I learned on the trip that two of my go-to coping skills are to avoid a situation entirely or tell myself that my ways of doing things are superior to others' so that I avert the learning moment. (In that way, maybe I'm not so different from the mission trip leaders from my teenage days.)
I learned that I have other options and abilities as well. I can choose to ask a question from a humble and curious point of view, and I can practice jumping into a moment without having all of my own trepidations resolved. There has been so much violence against American Indians, and such great trauma within their experience, that the cross-cultural skills we practiced on the trip are crucial for realizing healthy relationships between cultures. When I practice these skills, as a Christian, my prayer will be to play a small part within the mending of a historically troubled interaction.
As a pastor, I want to understand the crosscultural relationships I live with in my context and to be able to use these skills, both with the people around me most often and those I meet away from home. 
Methodist Theological School in Ohio prepares leaders of many faith traditions for lives of lasting significance in service to the church and the world. In addition to the Master of Divinity degree, the school offers master's degrees in counseling, theological studies and practical theology, along with a Doctor of Ministry degree. 
Engage with MTSO through Facebook and Twitter (@MTSOedu).
CONTACT: Danny Russell, director of communications
drussell@mtso.edu, 740-362-3322