March 11, 2018
NEWS
Week-long summer intensive course explores ecology, race and ethics
Earn three credits in five days.
Methodist Theological School in Ohio will offer an intensive week-long course exploring theology, ecology, race and ethics. "A Deeper Shade of Green: Black Ecotheology and Ethics" will be taught July 23-27 by Christopher Carter, assistant professor of theology and religious studies at the University of San Diego.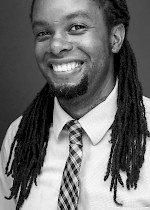 The class is worth three graduate credit hours and will meet 8 a.m.-5 p.m. Monday through Friday on the MTSO campus in greater Columbus. Those who are pursuing graduate degrees at other seminaries or divinity schools are welcome to register for the course as visiting students. Students are advised to confer with their home institutions to verify that the credits can be transferred.
Tuition is $2,145. A single $115 technology fee covers all Summer Term courses. On-campus housing is available for $28 per night. The course may be audited for no credit for a $200 fee.
Visiting students may register here. To learn more or request assistance with registration, contact the Admissions Department at admissions@mtso.edu or 800-333-6876.
In "A Deeper Shade of Green," students will explore the intersection between black and womanist theological and ethical discourses and environmental justice literature. The course will begin with an exploration of environmental justice, paying particular attention to environmental injustice on black and brown bodies. It then moves to interpret black and womanist theologies and ethical discourse in light of eco-injustice, and ends with collective discernment on how people of faith might address these global issues.
"We're excited to offer this course at a place with a unique commitment to the issues it addresses," said MTSO President Jay Rundell. "Students will be inspired by the passion and insight of Dr. Carter, not to mention our campus. They'll meet in classrooms powered by solar energy and cooled by geothermal wells. And outside, they'll find our 10-acre, certified organic Seminary Hill Farm in peak growing season. This will be a special week."
Methodist Theological School in Ohio provides theological education and leadership in pursuit of a just and sustainable world. In addition to the Master of Divinity degree, the school offers master's degrees in counseling, theological studies and practical theology, along with a Doctor of Ministry degree.
Engage with MTSO through Facebook and Twitter (@MTSOedu).
CONTACT: 
Danny Russell, communications director
drussell@mtso.edu, 740-362-3322