Faculty Author
Zimmerman's book finds flaws in U.S. anti-trafficking efforts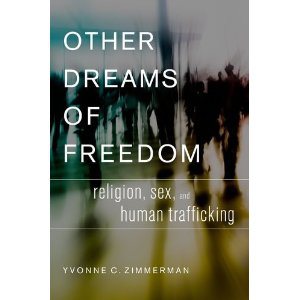 At first blush, you might wonder how anyone can spend a whole book contemplating the issues surrounding human trafficking. Trafficking is bad. We should work against it. End of discussion. Right?
For Dr. Yvonne Zimmerman, MTSO assistant professor of Christian ethics, that's barely the beginning of the discussion. Her new book, "Other Dreams of Freedom: Religion, Sex and Human Trafficking," is the culmination of years of research and personal soul-searching over the way the United States' response to trafficking has been shaped by persuasive voices in the religious community. The result, she argues, has been an approach that often leaves sex workers more vulnerable and tends to overlook the plight of exploited laborers in other kinds of work.
As the term "human trafficking" has penetrated public consciousness in recent decades, Zimmerman said, Americans have tended to focus most on commercial sex, even though it accounts for only about one-tenth of worldwide human trafficking.
"There were a lot of religious groups that were interested in anti-trafficking work, but almost exclusively they were interested in sex trafficking," Zimmerman said. "It's not that they were indifferent to people picking tomatoes or people sewing their clothes, but ultimately it was sex trafficking that moved them to become involved in the issue of trafficking."
In 2000, President Clinton signed the U.S. Trafficking Victims Protection Act, which has been reauthorized several times since. In Zimmerman's view, "It's doing some good things, and it's doing some bad things. One of the bad things that has happened with this legislation is that the U.S. government has made access to federal anti-trafficking money contingent on signing this pledge which is known colloquially as the Anti-Prostitution Loyalty Oath. You have to sign a statement that says you don't in any way support or advocate for prostitution."
The upshot, she said, is that any organization that reaches out to commercial sex workers – to provide child care, or to teach safe sex, self-defense or basic budgeting skills – is at risk for being seen as supporting prostitution, and thus becoming ineligible for U.S. funding. That strikes Zimmerman, who once worked in a rape crisis center, as a serious flaw.
"I'm not suggesting that I think sex work is glamorous or wonderful," she said. "But I do think that it's completely inappropriate for people in positions of relative privilege to sit back and make moralistic judgments about others whose lives have presented them with fewer or different opportunities and to tell them that their survival skills are immoral and wrong."
The more Zimmerman researched the issue, the more personally conflicted she became.
"I could either be a religious studies scholar and work on human trafficking, and respond with religious and moral platitudes, or I could be a feminist and maybe say some different things about sex and sexuality. That was a real impasse for me, how to be both. That was the tension out of which this book was born."
U.S. policy, Zimmerman said, is "very Protestant in its structure and form." The result is a set of values that can be at odds with those in other cultures and even with some religious viewpoints in the United States.
"If Protestant moral traditions about sex and your body are not your starting point, then your conception of what is exploitative in a particular situation may not be the same thing as what a religiously and culturally Protestant person may see," she said
Zimmerman worries when policy is guided by a philosophy that views exchanging sex for money as inherently exploitative: "I don't condemn commercial sex. I condemn exploitative commercial sex."
She chose the book title "Other Dreams of Freedom" carefully.
"Part of what is necessary is to not tell others what freedom looks like for them," she said. "I think it's important to let other people name for themselves, in the context of their own lives, what they want and what 'freedom' means for them."
"One of my core commitments as an ethicist is to policies and organizations that work to create the space and opportunities for trafficking survivors and people who are vulnerable to trafficking to be able to choose how they want to live their lives. This is important because the opportunity to live lives in a manner that's of their own choosing is one of the many things that taken away from trafficked persons. Even when people choose things that are very different than what I want for my life, that ability to decide for yourself what a livable life will consist of is a crucial part of moral agency and a key piece of what it means to respect and support human dignity."
"Many feminist ethicists talk about solidarity and mutuality with others, and they support them in their endeavors," Zimmerman said. "I see this book working in that vein, to support women and men around the world in pursuing their dreams of freedom. Even if they're not intelligible in Protestant Christian terms, that alone isn't sufficient reason to invalidate them."