Distinguished Alumni
Cleaver and Purushotham honored with Mount Awards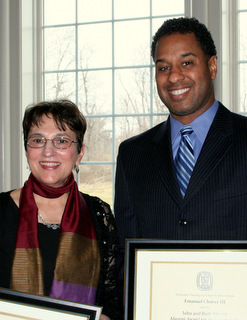 Rev. Dr. Emanuel Cleaver III and Rev. Dr. Gwen Purushotham have received the John and Ruth Mount Alumni Awards, MTSO's highest honor for former students. The awards were presented at the Mount Alumni Awards Luncheon Feb. 11.
Cleaver, senior pastor of the 2,600-member St. James United Methodist Church in Kansas City, received the Mount Award for Parish Ministry. Since earning his Master of Divinity degree from MTSO in 1999, Cleaver has served five congregations in Central Ohio and Kansas City, as a youth pastor, associate pastor and pastor.
Cleaver serves the broader church and community in numerous ways, including sitting on the Philander Smith College Board of Trustees, presiding over the Methodist Ministers' Fellowship of Greater Kansas City and teaching as an adjunct professor at Central Baptist Theological Seminary.
Purushotham, who earned an MTSO Master of Divinity degree in 1975, received the Mount Award for Specialized Ministry. She serves the United Methodist Church as associate general secretary of the General Board of Higher Education and Ministry's Division of Ordained Ministry.
In addition to her work with the GBHEM, Purushotham has pastored several churches and served as district superintendent in the New England Conference of the United Methodist Church. She is the author of the book "Watching Over One Another in Love: A Wesleyan Model for Ministry Assessment."
The John and Ruth Mount Alumni Awards were created in 1990 to recognize MTSO alumni who have achieved distinction in ministry and in service to the school. The award program was created by MTSO founding Board of Trustees member John Mount and his late wife, Ruth.