Registration is open
Duke's Luke Powery leads the Schooler Institute on Preaching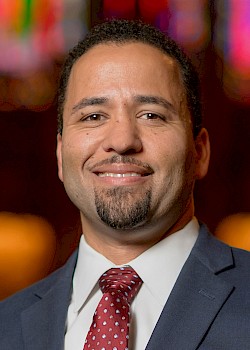 Luke Powery, dean of Duke University Chapel and associate professor of homiletics at Duke Divinity School, will lead MTSO's 2023 Schooler Institute on Preaching. The institute will be held Monday and Tuesday, March 27 and 28, on the MTSO campus.
A national leader in the theological study of the art of preaching, Powery regularly delivers sermons at Duke Chapel as well as at churches throughout the United States and abroad. He is often a keynote speaker and lecturer at educational institutions, conferences, symposia and retreats.
Among the books Powery has authored are Spirit Speech: Lament and Celebration in Preaching and Dem Dry Bones: Preaching, Death, and Hope. He is co-author of the textbook Ways of the Word: Learning to Preach for Your Time and Place.
Powery received his Bachelor of Arts degree in music with a concentration in vocal performance from Stanford University, his Master of Divinity from Princeton Theological Seminary, and his Doctor of Theology from Emmanuel College at the University of Toronto.
Thanks to the generosity of the Schooler Family Foundation, the Schooler Institute is offered to the public without cost. One continuing education unit is available for a $25 processing fee. Advance registration is required.