Emeritus Professor Paul Minus addresses the class of 2014
Commencement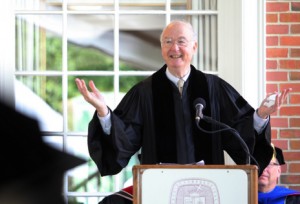 Emeritus Professor Paul Minus returned to the MTSO campus May 24 to address the school's 52nd graduating class. His address came 50 years after he and three colleagues were arrested while attempting to accompany two African-American men to Easter services at an all-white Methodist church in Jackson, Miss.
Dr. Minus shared details of that act of civil disobedience, which drew national attention, and discussed how it helped shape MTSO.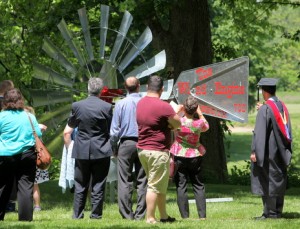 After diplomas were awarded, class representatives Randy May and Christina Yost presented the graduates' gift to the school. The class, which chose the theme "Embracing and Cultivating the Winds of Change," contributed to the purchase of a windmill for Seminary Hill Farm. It will soon be erected on a 33-foot tower near the campus pond. The windmill will harness wind power to provide irrigation for a planned orchard and to aerate the pond.
The windmill's 8-foot wheel was temporarily displayed in Dickinson Courtyard during Graduation Weekend, providing a great backdrop for photos and another example of MTSO's commitment to a sustainable world.
Video of the ceremony and photos from a stunningly beautiful graduation day are available here.