Project studies space sharing
Louisville Institute awards research grant to Numrich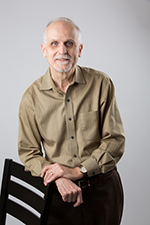 MTSO Professor Paul Numrich has been awarded a research grant by the Louisville Institute to develop space-sharing principles for religious organizations and groups.
The Louisville Institute is a Lilly Endowment-funded program based at Louisville Seminary supporting those who lead and study North American religious institutions. It has awarded $17,635 to Numrich, who holds the Snowden Chair for the Study of Religion and Interreligious Relations at MTSO and also serves as professor of world religions and interreligious relations at Trinity Lutheran Seminary.
Numrich is studying space-sharing arrangements by religious organizations and groups of many kinds, including multicultural temples, mosques and dual Ashkenazi-Sephardic synagogues. The specific project funded by the Louisville Institute will focus on space-sharing between Christian churches and groups.
In the video below, Numrich discusses his research.
"Space-sharing arrangements – including host/guest agreements, co-proprietorship of a facility, negotiating space usage for congregational subgroups, and sharing a third-party venue – have become common in the U.S. in recent decades, though they have met with mixed success," Numrich said.
Numrich will work to establish a set of principles conducive to relatively conflict-free space-sharing arrangements. He plans to publish at least one summary of his findings and share them with students and faculty colleagues at MTSO and Trinity.