January 16, 2013
Event
What can Medieval Spain teach us about religious coexistence?
Albert Hernández delivers MTSO's 2013 Williams Institute lectures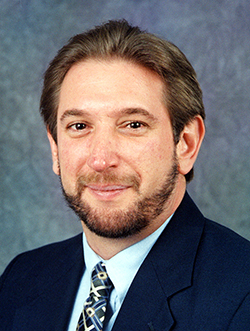 While the modern world struggles with tensions between major religions, Albert Hernández believes Medieval Spain offers a legacy worth exploring. Hernández, interim president and associate professor of the history of Christianity at the Iliff School of Theology in Denver, will lead the Williams Institute at Methodist Theological School in Ohio.
Under the Theme "Lessons from Medieval Spain: Religion's Power to Unite or Divide," Hernández will present two lectures: "The Tragedy of Andalucía: A Lost Legacy of Coexisting Religions" at 7 p.m. Feb. 26, and "Nationalism and Memory: Casting Religions as Neighbor or Foe" at 11:30 a.m. Feb. 27. Both lectures will be in the Alford Centrum on the MTSO campus, 3081 Columbus Pike in Delaware, Ohio. They are free and open to the public. No registration is necessary.
Medieval Spain was a place where Muslims, Jews and Christians lived together and prospered for over eight centuries on European soil. In modern times of conflict around the world, Hernández finds Medieval Spain's achievements and rich legacies of learning, scientific advancement and creative coexistence instructive. He believes they provide an important and alternative vision of the three Abrahamic religions working together in the social and religious arenas for collective human flourishing and mutual edification.
A member of the Iliff faculty since 2001, Hernández accepted the position of interim president in June 2012. His teaching areas include the history of Christianity from Antiquity through the Medieval and Early Modern periods. His research interests include the history of Muslim and Christian relations beginning with the Crusades, the problem of religious diversity in medieval and early modern Spain, and the role of mystical movements in Christian history.
Hernández is the author of the 2010 book Subversive Fire: The Untold Story of Pentecost and co-author of the 2011 book The Quest for the Historical Satan. He holds Ph.D., M.A. and M.Phil. degrees from Drew University, an M.S. from Nova Southeastern University, and a B.A. from Florida International University.
MTSO's Williams Institute was begun in 1981 to honor the late Dr. Ronald L. Williams, professor of theology from 1971 until his death in 1981. The institute has featured speakers from many backgrounds, including theologians, ethicists, poets, biblical scholars, historians, pastoral psychologists and Christian educators.
Methodist Theological School in Ohio prepares leaders of many faith traditions for lives of significance in service to the church and the world. The school offers master's degrees in divinity, counseling ministries, theological studies and practical theology, as well as a Doctor of Ministry degree. For more information, visit www.mtso.edu.
CONTACT:
Danny Russell, director of communications
drussell@mtso.edu, 740-362-3322