September 29, 2014
A Russian connection
With a love of linguistics and a passion for ministry, Katya Oreshina brings her international perspective to MTSO.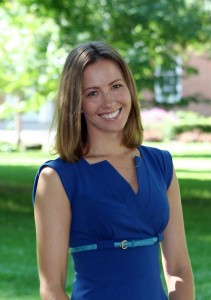 Six years ago, when Katya Oreshina left her native Russia to live and work in the United States, Ohio wasn't on her itinerary. She set out for a slightly higher-profile locale: New York City.
A native of Samara, a city of more than 1 million people 500 miles southeast of Moscow, Oreshina put her undergraduate degree in linguistics and intercultural communication to work as an office assistant for a major jewelry company.
While she was working and enjoying life in bustling Manhattan, she also was part of a Russian speaking church. It was there that her desire to serve as a pastor began to grow.
An opportunity to fulfill that desire arose two years ago with a serendipitous meeting. In July of 2012, Oreshina joined a team from her home church in Samara to meet with members of Hyde Park Community United Methodist Church in Cincinnati. Hyde Park has been a partner with Samara UMC for over two decades through a global outreach ministry.
During the two-week Cincinnati visit, Oreshina had the opportunity to spend time with Bishop Bruce Ough, who at the time presided over the West Ohio Conference of the UMC and was an MTSO trustee. She shared with him her growing desire to serve as a pastor. Ough arranged for Oreshina to visit MTSO's campus the next day.
During that first trip to MTSO, Oreshina got a chance to hear about the curriculum and meet a few members of the faculty and staff. By the end of the visit, it was clear to Oreshina that MTSO was the place for her to pursue ministry. Her time as a student has reinforced her belief that she came to the right place.
"I'm finding a balance between the theology that I'm learning and the training of my heart from my home church," she said. "I feel the call to social holiness now more than when I first arrived. It's making me more tolerant of other cultures, worldviews, genders and ideologies."
Oreshina, who has earned a full-tuition MTSO Scholarship, is finding ways to combine her training as a linguist and her seminary studies. She has acted as the translator for a world communion service that spanned the globe between small churches in Ripley, Ohio, and the Volga District in Russia. With Oreshina's help, the two congregations were able to celebrate communion together via Skype.
"It was so fun to wave hello, sing hymns and share communion with people who were sitting miles and miles apart," she said.
Buoyed by the response of these small churches, Oreshina also has served as translator for a communion service shared by Hyde Park Community UMC and her home church in Samara. "I was translating the words, but it was the Holy Spirit that was working in both places," she said.
In addition to her studies and her work with churches, Oreshina finds time to translate articles for The Upper Room, a daily devotional magazine produced by the United Methodist Church.
"Because of my studies at MTSO, I am able not just to translate the words from English to Russian but also to provide deeper understanding," she said. "It's important for people in Russia to have this Christian publication. I like playing a part in getting it to them."
Oreshina, who has begun working at Trinity UMC in Marble Cliff through MTSO's field education program, plans to graduate in December 2015 with a Master of Divinity degree. She sees the next 15 months as a time to discover what is next for her – and where.
"The biggest question is: Here or Russia? I feel so at home in the U.S. It's so comfortable here. At the same time, I feel a tug to observe, learn all I can and take it back. I'll just have to wait and see what seems best at the time."
Methodist Theological School in Ohio prepares leaders of many faith traditions for lives of lasting significance in service to the church and the world. In addition to the Master of Divinity degree, the school offers master's degrees in counseling ministries, theological studies and practical theology, along with a Doctor of Ministry degree.
CONTACT:
Danny Russell, director of communications
drussell@mtso.edu, 740-362-3322