September 21, 2016
NEWS
Auburn Seminary hails MTSO as a 'bright spot' in theological education
A major new report cites Seminary Hill Farm and other commitments to ecology and justice

Auburn Seminary has recognized Methodist Theological School in Ohio in its newly released report, "Bright Spots in Theological Education: Hopeful Stories in a Time of Crisis and Change." Based in New York City, Auburn is a leadership development institute seeking to equip leaders of faith and moral courage to inspire positive change in the world.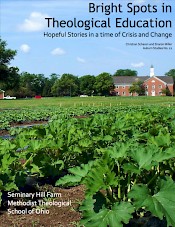 Auburn's report, which features MTSO's Seminary Hill Farm on the cover, was released Sept. 20. In the section "Modes of Innovation: 10 Case Studies," the report details the "leap of faith" that began with MTSO's founding of the farm and extends to an array of commitments to ecology and social justice. Among other MTSO initiatives cited in the report are:
"The renewal of the seminary is emerging from this new imagination regarding use of their land in relation to their core mission," the Auburn report says of MTSO, "and in turn, their core mission is sharpening in its focus and vitality, as well."
Summarizing its report, Auburn states: "Although the challenges are real, causing some institutions preparing faith leaders to struggle, this report highlights institutional 'bright spots' —places that are innovating so their graduates are faithful, wise, courageous and willing to risk experiments that trouble the waters of injustice and heal the world—both its peoples and the creation itself."
MTSO also draws praise in a Sept. 20 commentary, "Decisions, Risks, and Innovations in Forming Faith Leaders," by Christian Scharen, Auburn's vice president of applied research and leader of its Center for the Study of Theological Education. Noting that many seminaries are in crisis, Scharen writes, "I'm very excited to share the flip side."
Methodist Theological School in Ohio prepares leaders of many faith traditions for lives of lasting significance in service to the church and the world. In addition to the Master of Divinity degree, the school offers master's degrees in counseling ministries, theological studies and practical theology, along with a Doctor of Ministry degree.