Doctor of Ministry
What can your ministry become?
The church needs transformative leaders equipped with advanced skills. The Doctor of Ministry degree at MTSO is designed to:
Provide ministering professionals with advanced educational experience.
Serve the church by providing leaders with advanced professional development.
Integrate classical and practical disciplines for theological work.
Enhance analysis of changing contexts with a focus on transformation.
A program that fits your needs
This is a program for busy professionals, offering flexible cohort-based study with an ecumenical focus. D.Min. students experience small classes, are taught by full-time and affiliated faculty, interact with a national, ecumenical student base, and work with attentive project advisors. Dr. Paul Kim is the acting director of the Doctor of Ministry program.
Classes meet in two intensive sessions per year – one week each in mid-summer and January – for 3 1/2 years. The remainder of your work toward the D.Min. can be done independently.
MTSO offers courses both in person and online. While some courses are available exclusively online or exclusively in person, the vast majority are available in both modes, employing HyFlex education.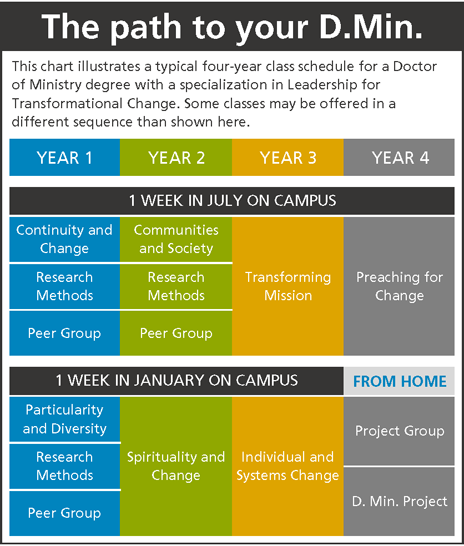 D.Min. degree requirements
As a D.Min. student, you'll choose to specialize in one of these areas of ministry:
Leadership for Transformational Change
Ecology and Justice Ministry
Global Christian Leadership and the Urban Context
New cohorts of five to 15 students begin each July. The application due date for July matriculation is May 15.
United Methodist clergy in the West Ohio Conference are eligible to apply for the West Ohio Conference Alford-Cantlin Fellows Doctor of Ministry cohort at MTSO.
Tuition and fees
Tuition and fees for the D.Min. program are on MTSO's tuition, fees and housing sheet. Costs such as books, course materials, travel, housing and meals are not covered by tuition.
MTSO doesn't offer D.Min. scholarships. Clergy within the West Ohio Conference of the United Methodist Church may apply for the West Ohio Conference Alford-Cantlin Fellows program, which includes some scholarship funding.
Note to prospective international students
Because those enrolled in the MTSO Doctor of Ministry program attend half-time rather than full-time, D.Min. students are ineligible for the United States' F-1 student visas, which require full-time enrollment.
Apply
Get started on our Doctor of Ministry application page. Applications for summer matriculation are due May 15. Questions? Email admissions@mtso.edu.