Master of Arts in Social Justice
Passion. Leadership. Impact.
Our world urgently needs individuals with the commitment and expertise to drive conversation and action around social justice. Your MASJ degree from MTSO will equip you to lead, organize, educate and collaborate in diverse social, political, religious and educational contexts.
This 39-credit-hour professional master's degree, designed to be completed in two years, takes full advantage of MTSO's unique ethos. The MASJ offers an interdisciplinary core curriculum combining ethics, theology, public leadership, sacred texts and spirituality. You'll also choose from among MTSO's many social justice-oriented elective courses to sharpen your unique focus in areas such as race, immigration, human sexuality, climate, disability and labor exploitation.
MTSO offers courses both in person and online. While some courses are available exclusively online or exclusively in person, the vast majority are available in both modes, employing HyFlex education.
A two-year program, with classes on campus and fully online
MASJ classes include on-campus and online learning, with the option to attend fully online. All on-campus MASJ core courses meet on Monday or Tuesday evenings or on weekends. Times of the three elective courses required to complete the degree depend on the courses chosen. Your coursework includes a cross-cultural immersion trip and a customizable 280-hour internship.
See a sample MASJ schedule showing actual class days and times.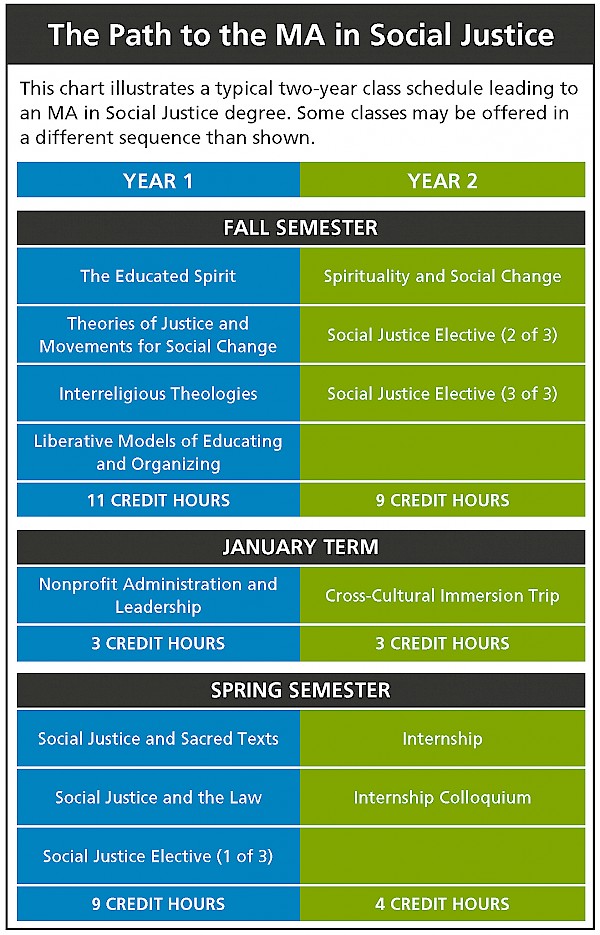 MASJ Degree Requirements
MASJ Course Scheduling
MASJ Recommended Degree Completion Plans
Hear from MASJ students
Rebekah Sperling reflects on her work as a policy research and analysis intern with the Transactional Records Access Clearinghouse:
Alexander Clemetson, an intern with Community Development for All People, is working on replicating the All People's Fresh Market in the Linden neighborhood of Columbus:
Austen-Monet McClendon discusses her internship with Orita's Cross Freedom School:
Mike Premo is working on establishing a cafe during his internship with Community Development for All People:
Learn more and get started
Talk with an admissions representative about MTSO and the MASJ degree. Email or call 800-333-6876.