Master of Arts in Social Justice
Passion. Leadership. Impact.
Our world urgently needs individuals with the commitment and expertise to drive conversation and action around social justice. Your MASJ degree from MTSO will equip you to lead, organize, educate and collaborate in diverse social, political, religious and educational contexts.
This 39-hour professional master's degree takes full advantage of MTSO's unique ethos. The MASJ offers an interdisciplinary core curriculum combining ethics, theology, public leadership, sacred texts and spirituality. You'll also choose from among MTSO's many social justice-oriented elective courses to sharpen your unique focus in areas such as race, immigration, human sexuality, climate, disability and labor exploitation.
A two-year program, with most classes in the evening and online
MASJ classes include on-campus and online learning. All on-campus MASJ core courses meet on Monday or Tuesday evenings or on weekends. Times of the three elective courses required to complete the degree depend on the courses chosen. Your coursework includes a cross-cultural immersion trip and a customizable 280-hour internship.
Please note: We at MTSO are continuing to teach and learn while observing precautions around the coronavirus pandemic. For information about next semester, visit our COVID-19 information page.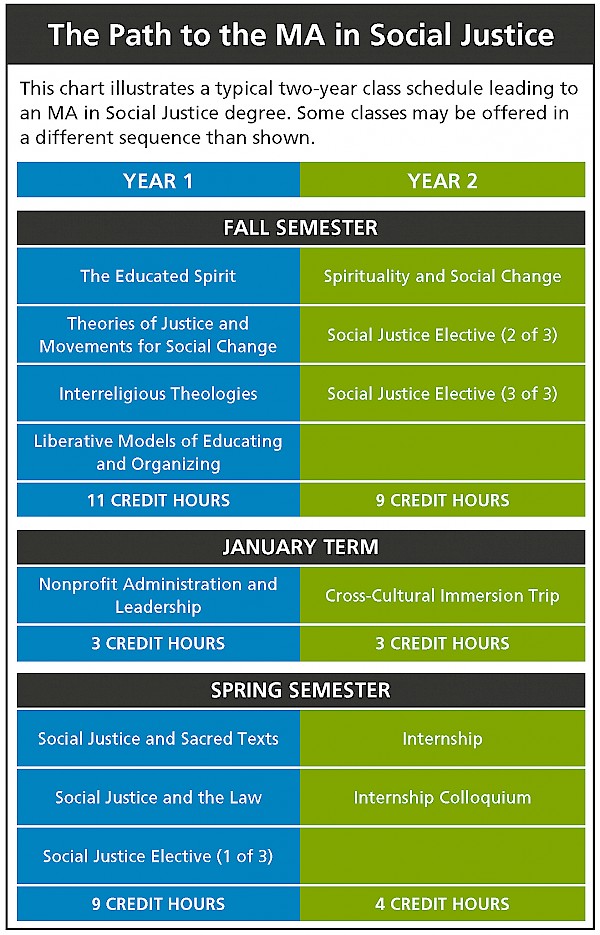 MASJ Degree Requirements
MASJ Course Scheduling
MASJ Recommended Degree Completion Plans
Learn more and get started
Talk with an admissions representative about MTSO and the MASJ degree. Email or call 800-333-6876.